Sonotiz consists of SONO Eco mat covered with a non-woven protective material. SONO Eco itself consists entirely of fiberglass, manufactured using a mechanical pressing system that allows the fibers to create a bonded product without binders. In addition, the precise cutting of long glass fibers provides maximum density, excellent insulation and robust physical qualities at temperatures up to 650°C.
The top and bottom layers of spundbond provide a decoupling layer that helps protect against tile and cement cracking from floor movement.
| | Units | Sonotiz AT 12 | Sonotiz AT 7 |
| --- | --- | --- | --- |
| | | | |
| | | | |
| | | | |
| | | | |
| | | | |
| | | | |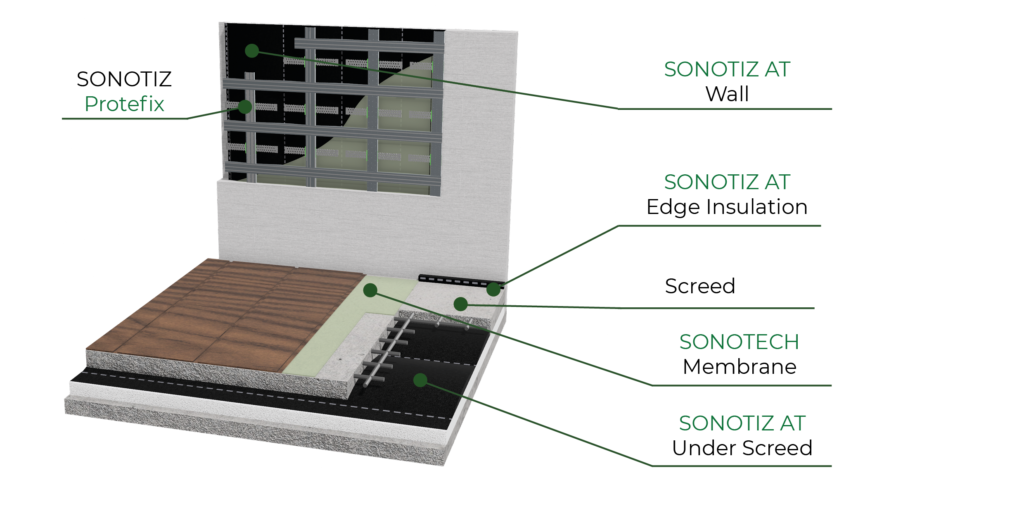 After cleaning the surface of debris and dust, the SONOTIZ mat is placed lengthwise. It is necessary to cut the material with a margin so that its ends face the walls. So we measure the required length and to this add the dimensions of the "Edge" (the height is determined by the thickness of the screed plus at least 5 cm extra).
We place the next mat along the first, making an overlap of about 5 cm and thus cover the entire floor. As a result, we get the appearance of a bowl, into which the screed is poured (minimum screed thickness of 50 mm or 80 kg per m2). After leveling, the remaining excess must be cut and insulated.